Complete Story

03/31/2023
Save the Date! OAASC Conference Sept. 19-20!
Be sure to mark your calendar for the OAASC 2023 Annual Educational Conference! This year we return to the Hilton Polaris Columbus on September 19-20 and we hope to see you there!
Day 1 includes a full slate of Infection Prevention training!
The education committee is currently working on building an incredible schedule of sessions, including our ever-popular day of Infection Prevention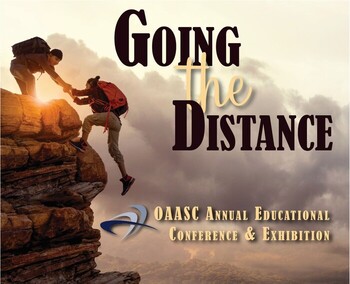 training! Of course, there will also be a variety of additional business, administrative and clinical topics available for attendees, including an inspiring and energizing keynote address by Jeff Alt, "Lessons from the Trail."
Jeff is a talented speaker, hiking and camping expert, and an award-winning author of seven books and has filmed a Tedx Talk about his Appalachian Trail journey. His expert advice, adventures & books have been featured on ESPN, CNN-Radio, FoxNews.com, Hallmark Channel, ABC's the List, USAToday.com, in Backpacker Magazine, SHAPE, Women's Health, Fitness RX for Men, Chicago Sun Times, and many more! He has walked the entire 2,160-mile Appalachian Trail, the 218-mile John Muir Trail with his wife, and he carried his 21-month-old daughter along the coast of Ireland on a family hike. His son was on the Appalachian Trail at 6 weeks of age. You won't want to miss Jeff's message, or ANY of the unparalleled education available.
Ready to get started?
Registration may not be open yet, but you can get an early start and reserve your room now! Use the following link to secure your room for the event now and check one thing off of your to-do list early!
https://www.hilton.com/en/attend-my-event/cmhpohf-oaas23-e871bd02-6ea7-4280-8ba3-80381eb62788/
Watch your email and our website, www.oaasc.net for on-going updates about our conference and the roll-out of registration!
---