05/02/2022
Don't Miss the OAASC Coding Clinic on May 19th!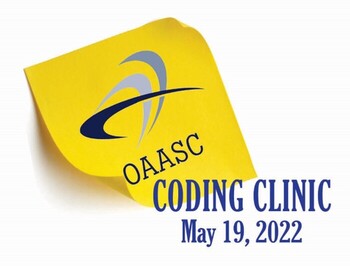 The OAASC welcomes you back to our Coding Clinic! We are glad to be able to return to this informative event this year, featuring Paul Cadorette, Director of Educational Services with mdStrategies. Paul has put together a detailed day of instruction that will be sure to assist you in sharpening your knowledge and skills in ASC coding and improve your center's profitability.
At the end of the day we'll welcome staff from the Ohio Bureau of Workers' Compensation to review the latest updates and trends affecting ASCs in the state.
This event includes one FULL day of education in the following areas:
PART I:
2022 CPT Coding Changes
Ophthalmology Coding
Colonoscopy Procedures
Pain Management Injections
Shoulder Procedures
Knee Procedures and Podiatry
Part I Q&A
PART II:
Discussion on BWC response during COVID to ensure injured worker access to care
Review of longitudinal reimbursement trends, including ASC reimbursement
How to navigate treatment approvals and reimbursement, and avoid common payment denials
Part II Q&A
Schedule:
8:00 AM Registration and Continental Breakfast
8:30 AM PART I Workshop Session Begins
10:30 AM Break
10:45 AM PART I Session Resumes
12:15 AM Lunch
12:45 PM PART I Session Resumes
2:45 PM Break
3:00 PM PART II Workshop Session Begins
4:00 PM Workshop Adjourns
Or... download a printer-friendly form to fax or mail
Facility:
Quest Business & Conference Centers
9200 Worthington Road, Suite 400
Westerville, OH 43082
https://www.quest-centers.com/
Overnight Accommodations:
A small block of rooms with the rate of $125.00 is available at the Hampton Inn and Suites near the meeting venue at 8411 Pulsar Place, Columbus, OH 43240. Call (614) 885-8400 and ask for a room in the OAASC block, or click here to reserve your room online.
Featured Speaker:
Paul Cadorette is the Director of Educational Services for mdStrategies, a Healthcare Consulting Company based in Houston, Texas, that specializes in coding support, auditing and educational training. He is responsible for developing coding training seminars and educational webinars, which have been featured by the Ambulatory Surgery Center Association with a primary focus on ASC coding. He has written newsletter articles which have been published in the AAPC's Coding Edge magazine and Becker's ASC Review in addition to mdStrategies own monthly coding newsletter. As a member of the American Academy of Professional Coders, Paul has lectured at numerous AAPC state and chapter conferences, multiple state ASC educational conferences, and provided training for many of the industry's largest Healthcare Corporations.
Questions? For additional information about this event, please contact the OAASC office at 614.358.0177 or sam@oaasc.net.
Continuing Education: This program has been submitted for approval for continuing education hours. Granting of prior approval in no way constitutes endorsement by the accrediting body of the program content or the program.


---